Stuart Wilde Audio Lecture Series & Meditations
Find Stuart Wilde's Australian published audio lecture series and meditations on CD at the Quiet Earth web site—featuring a large selection of hard to find Stuart Wilde titles.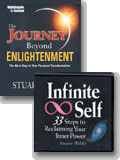 Stuart Wilde Audio Programs
Stuart Wilde's popular spiritual growth audio programs, The Journey Beyond Enlightenment and Infinite Self – 33 Steps to Reclaiming Your Inner Power, are available through Nightingale-Conant.
© 2010 — Stuart Wilde — All Rights Reserved.