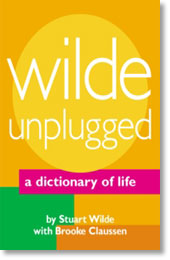 Wilde Unplugged – A Dictionary of Life
Adobe Reader eBook Download
By Stuart Wilde
Available Exclusively as an Adobe Reader eBook Download.
198 pages. $8.00.
"Most dictionaries are alphabetical and describe the meanings of words, which keeps you ticking along in an orderly way. This dictionary is not alphabetical, as it attempts to describe the strangeness of life." —Stuart Wilde
© 2009 Stuart Wilde – www.stuartwilde.com
Requires the Free Adobe Reader >
Download Instructions:
1. Click the Buy Now Button to Initiate Payment.
2. After Payment, Click to Initiate Download.
3. Save and Make a Back Up Copy of Your Digital Purchase.