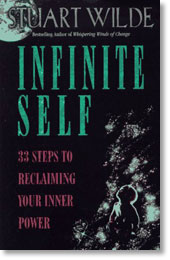 Infinite Self
By Stuart Wilde
Hay House. 227 pages. $14.95.
ISBN 1-56170-349-4
Order Stuart Wilde — Infinite Self [Paperback]
Download Stuart Wilde — Infinite Self [Kindle Edition]
In Infinite Self, Stuart Wilde, one of the most profound and original thinkers of our time, shows you how to consolidate your inherent power and transcend all limitations by releasing yourself form the constraints of the ego.
The simple yet powerful concepts contained in this revolutionary book will take you from the world of ego, superficiality, and illusion to the higher spirituality of your Infinite Self.
"With profound brilliance and humorous irreverence, Stuart Wilde choreographs the mysteries of life into a series of practical steps we can use and master for ourselves." —Deepak Chopra, M.D.