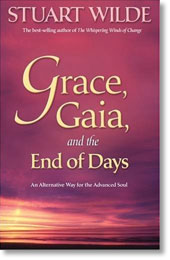 Grace, Gaia, and the End of Days
By Stuart Wilde
Hay House. 200 pages. $15.95.
ISBN 978-1401920067
Order Stuart Wilde
Grace, Gaia and the End of Days [Paperback]
Download Stuart Wilde
Grace, Gaia, and the End of Days [Kindle Edition]
"Grace is a golden light seen coming from the inner spiritual world that is data-driven and laced with trillions of bytes of fractal information that offers you hope, good fortune and protection," says Stuart Wilde of the central idea in his groundbreaking new book Grace, Gaia and the End of Days, out from Hay House this March (2009). In this collection of essays from the provocative best-selling author ofMiracles and Silent Power, he sets out to give readers a twenty-first century understanding of grace—and tools to activate it in their lives.
"Grace is pure love," he says. "What I discovered is that grace can also be described as a divine energy, a technology from other dimensions that you can learn to harness and develop," says Wilde, whose work, like that of Deepak Chopra, is informed by principles from quantum physics and "quantum mysticism".
"The human system is configured to read this fractal data through visions and extra sensory intuitive feelings," he says. To that end, he advocates simple disciplines such as regular trance meditation through which one can develop serenity and balance to access what he calls "pure information"—a stream of consciousness that comes from a "Higher Knowing"—which has also been called "infinite intelligence", "The Source" and "God". This pure information "will tell you where to go and what to do". Access to it will be critical in these changing times, which are not the end of the world, says Wilde, but rather the end of a consumer-driven world as we know it.
For the advanced metaphysician, Wilde's text offers surprisingly specific, leading-edge technical detail such as his postulate that spiritual dimensions are placed at 90 degrees to us and follow the direction of the transverse waves of light, in accordance with the work of leading theoretical physicists like Dirac, Hawking and Kaku. A final essay by the articulate metaphysical writer and teacher Khris Krepcik, a protégé of Mr. Wilde, provides a riveting look at the mechanics behind many of the concepts Wilde describes.
Wilde has been called ahead of his time, controversial, cutting-edge, the enfant terrible of New Age circles for his refusal to water down avant-garde and unpopular ideas, and a thought-leader for progressive metaphysics. For those new to this arena, some of Wilde's concepts may call for an open mind and the suspension of disbelief. But then this is the author who, twenty-five years ago, wrote extensively about little-known knowledge that was later featured in a book called The Secret.
Read What People Say:
From Amazon:
Amazing
"I read many of Stuart's books. This is his best by far. So much to ponder."
— Suzanne, February 18, 2009
Perhaps Stuart Wilde's Best Work Yet,
"The original release date was March 2009, but my copy arrived yesterday. I'm glad I pre-ordered. I've been a big fan of Stuart Wilde's work for 15+ years. I've read all his books and this one could very well be his best work yet."
— Mark, January 27, 2009
from other reader sites
"I recently discovered Stuart's book, Sixth Sense and the latest book, Grace, Gaia and the End of Days. I am definitely a fan now and have ordered four more of your books. Much of what he describes is real to those who can see it."
— Julie, February 23, 2009
"I felt compelled to tell folks that you really need to read this book at least twice . . . it's that good."
— Kevin, February 26, 2009
"Thanks for the laugh Stuart I sure need it. My karma must be out of whack, last night somebody snuck in the back door where I work and stole my bag. I didn't care much for the bag or anything in it—and seeming how I haven't got a pot to piss in, they didn't get any moola. But they did get my copy of Grace, Gaia and the End of Days which I waited a month for and now I'm pissed to lose. Normally I fair OK in the karma department, and have never had anything stolen in my life (apart from my soul). I even lost my wallet while swimming at little beach and a week later got a phone call from the local dive shop telling me that two scuber divers had found my wallet on a reef, they even gave the two plastic fifty dollar bills back . . . Oh well I will have to wait for another call from some unexpected hobo who finds my book wedged between his bum cheeks."
— Josh, February 27, 2009
"I just wanted to say that I received a copy a couple of weeks ago and cannot put it down. It is packed full of great information and wisdom beyond imagination . . . . Cheers Stuie to another great work of art."
— Cheryl, February 25, 2009
"Like all of Start's work you know that he is also walking the talk which is why his work is so valuable. Its not just a philosophical take on the world but a real practical guide that assists us to become real and not just pretend."
— Joe, February 25, 2009
"Grace, Gaia, and the End of Days arrived yesterday and I am totally enthralledwith the information, experiences, and teachings . . . . again I find myself moved to tears. I feel so blessed to have been guided years ago to Stuart's wonderful work."
— Trish, February 25, 2009
"Best book EVER!!! It's beyond moving and transformational. I always thoughtGod's Gladiators is the ultimate kick in the xxxx, but this book will knock you off. Stuart lays it all out for us to come! After reading this, there will be no more excuses left to not make the run and change for the better. It strips of all the bs and denial and really has the power to crash your tower. I can't tell how deep this book impacted me, it is a roller-coaster ride with the most advanced metaphysical knowledge I've ever came across. The practical advice in it, already changed me a lot, made me feel lighter and brighter. It is very moving. Thank you Stuart for writing this, I will read it again and again."
— Oliver, February 27, 2009
"I have just read it for the second time. It gave me a lot of hope. Loved the bookalthough am still trying to "get my head round" a lot of stuff."
— Marie, February 23, 2009
"Stuart's new book Grace, Gaia, and the End of Days is truly extraordinary. It reveals in fine detail the Matrix we all live in and the dimensions beyond the Matrix . . . it is all so real . . . and alive—wow."
— Richard, February 26, 2009
"Stuart's book could not have come at a better moment for me, many thanks and lots of love."
— Rusty, February 17, 2009
© 2009 Stuart Wilde – www.stuartwilde.com