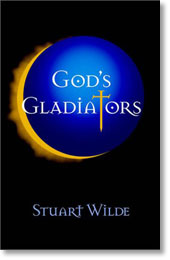 God's Gladiators
By Stuart Wilde
Hay House. 211 pages. $13.95 Paperback. $8.00 eBook.
ISBN 0-9714396-3-X
Order Stuart Wilde's – God's Gladiators in Paperback >
God's Gladiators by Stuart Wilde is his most personally revealing book to date. He lays his soul bare as he goes in pursuit of the devil, and finds him a decent chap if a little misunderstood. The dark side, after all, stands side by side with the light, waiting for each of us personally to walk up and shake their hands. What a glorious moment awaits as we embrace our mortality and say good-bye to our illusion of perfection. Stuart lays it all out for us. It's up to you where you go from here.
Order Stuart Wilde's – God's Gladiators in Paperback >
God's Gladiators – Adobe Reader eBook Download
By Stuart Wilde
211 pages. $8.00.
Requires the Free Adobe Reader >
Download Instructions:
1. Click the Buy Now Button to Initiate Payment.
2. After Payment, Click to Initiate Download.
3. Save and Make a Back Up Copy of Your Digital Purchase.
© 2009 Stuart Wilde – www.stuartwilde.com