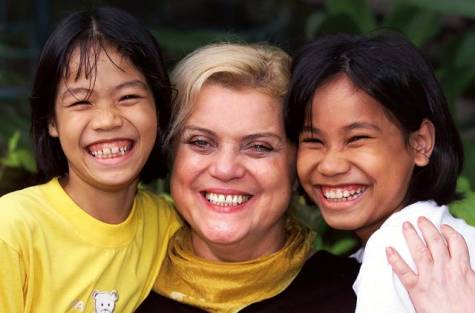 This is an inspirational story of a brave woman, Christina Nobel, who lived in a hole she dug in a park in Dublin and she went on to found orphanages in Vietnam and later Mongolia. She says it can only take one person to make a difference.
Christina Noble has written two autobiography's 'Bridge Across My Sorrows' and 'Mama Tina'. Currently, filming has just begun on the feature movie "Noble" depicting this extraordinary woman's life.  It's so cool to see how this inspirational woman's dream become a reality.
Christina's passion for children's rights is rooted in her own horrendous upbringing. Christina knows what it's like to be young, homeless and desperate. Born in Ireland into the slums of Dublin in 1944, she was to embark on a childhood of pain and betrayal. She and three siblings were raised by their mother while their violent father, frittered away what little money the family had on drinking in pubs.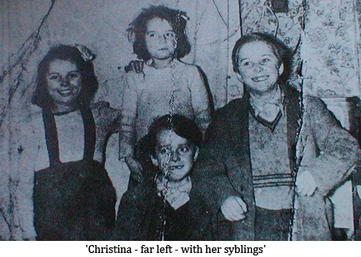 The death of her mother, when Christina was 10, brought about the separation of the children, as they were all sent to different orphanages. Christina spent four desperate years in the west of Ireland in an Institute being led to believe that her brothers and sisters were dead. Her escape brought her to a park in Dublin where she slept in a hole in the ground that she herself dug.
At the age of 18 Christina ran away to England to be with her brother. This is where she met and married her husband and had three children.  It was during this particularly low ebb in her life around 1971 that she had a dream about Vietnam.
"I don't know why I dreamed about Vietnam, perhaps it was because the country was so much in the news at the time. In the dream, naked Vietnamese children were running down a dirt road fleeing from a napalm bombing. The ground under the children was cracked and coming apart and the children were reaching to me. One of the girls had a look in her eyes that implored me to pick her up and protect her and take her to safety. Above the escaping children was a brilliant white light that contained the word 'Vietnam'." 
In 1989 Christina follows her dream's calling and booked a flight to Ho Chi Minh City. She wastes no time befriending and trying to protect the hordes of neglected street children and to them she is soon affectionately known as 'Mama Tina'. Being pretty much penniless herself, she sings in clubs and bars to earn some cash. She tries to raise awareness of the children's plight and badgers the foreign business people in the City for donations.
Despite tremendous obstacles, she never waivers from her goal of improving these children's lives. She convinces the authorities of her good intentions and is granted permission to renovate a derelict building and turn it into a social and medical centre for disadvantaged children. It becomes the first Centre of The Christina Noble Children's Foundation, dedicated to serving the world's oppressed, forgotten and ostracized children.
In 1997, Christina expanded the foundations operations into Mongolia and to date CNCF has helped over 700,000 street children, and now operates in more than 10 countries, including Australia. Stuart Wilde www.stuartwilde.com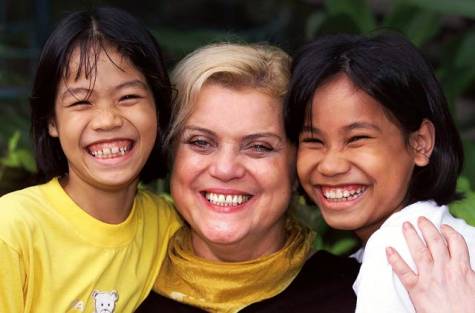 Source: CNCF website
---