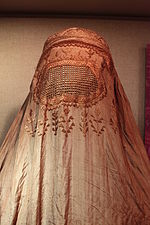 "Journalism is printing what someone else does not want printed. Everything else is public relations." — George Orwell 
There is a theory that all the nightly news in America is written by one person. Once CNN makes a statement, then other TV discussion shows like Bill O'Reilly, Conan O'Brian and Glenn Beck, parrot what has been said, because it's the official party line. It must be very dull working as a journalist for a major newspaper or TV station, as one is never allowed to express oneself freely. George Orwell's 1984 Big Brother society has come upon us, it's very subtle, people think the mainstream press is free.
The Internet is free but all of that is changing as well. Arab women are required to wear a burkha when out and about, it must be very hot and stifling. Some Arab ladies took their burkhas off as a protest, and they posted pictures of themselves on Facebook where people could see their faces. Facebook banned the pictures, the ladies weren't nude, it was just pictures of them without a burkha on.
Imagine you are the inane git at Facebook that has to troll through thousands of Internet sites looking for burka-less ladies to censor and ban.
---