All perception comes from softness so sensuality and softness go hand in hand. Psychic powers are a mental capacity and fraught with misinterpretation and interference from untoward energies. Softness is the morning mist of the eternal Tao—its ebb and flow as it wafts through the trees in a gentle breeze.
Sensuality is colors and fabrics and elegance, but then it is also intimacy and tactile contact and that's where one usually looks up to find the crowd has fled over the hills!
People are scared of these things partly because they are cold and cerebral and mostly because they are ashamed. But you have to let down and allow the world in and you have to embrace softness and delicacy. Then your feelings come forward and show you everything.
Remember heaven is warm, to see the celestial you have to become warm, natural and uncluttered. So the first step beyond blindness is to embrace the healing warm and let go.
Here is a beautiful video on Perception and Sensuality I made with Richard Tyler. A soft and soothing journey into perception. www.stuartwilde.com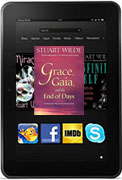 Stuart Wilde – Now Available in Kindle Editions
Read your favorite Stuart Wilde books on Kindle, iPad, iPhone, Android, Blackberry, Smartphones, PC, Mac, and other digital devices with Stuart Wilde titles now available in Downloadable Kindle Edition eBooks.Browse Stuart Wilde Books in Kindle Editions >
Please feel free to share Stuart Wilde articles with your friends, social networks, newsgroups, and websites. Word of mouth has helped Stuart Wilde teachings reach millions of people. Thank You.