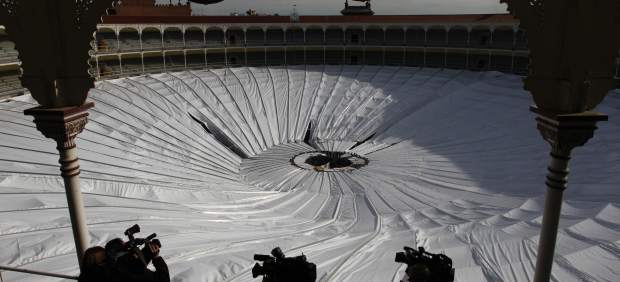 They tried to build a roof for La Ventas, the main bullring in Madrid but it has collapsed. Tee hee. Symptomatic of what is coming next. Here is what our reporter on the bulls said:
From our reporter:
Just to let you know that a fancy covered roof structure for Las Ventas, costing a reported 4 million Euros, collapsed on Monday at 4.45am, 3 days before its inauguration to the public. The aim of the special covered dome etc. was to enable events to take place outside of the bull fighting season. Technical and safety inspections will take place at the "heritage site" the project has been suspended.
A record company paid for the aluminium structure 102 metres in diameter, and 75 metres high. It was made in France and transported by 30 lorries to the bull ring. The record company's exclusive musical events have been cancelled.
Please watch The Revenge of The Bulls by SW on YouTube:
© Stuart Wilde 2013 – www.stuartwilde.com
---