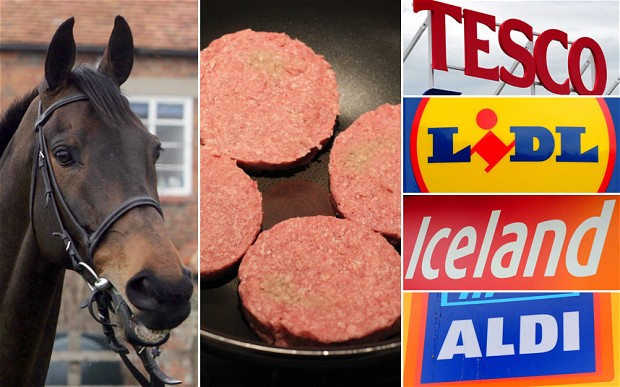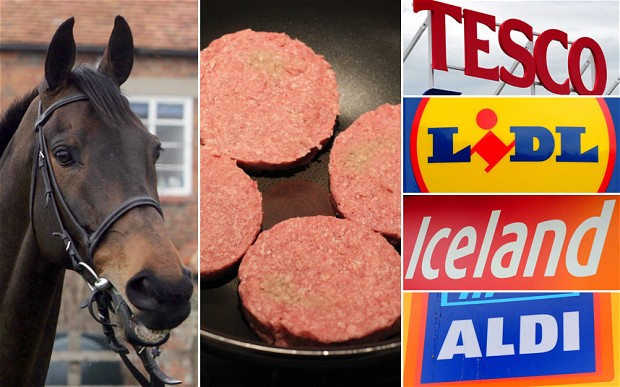 As an update to the horse meat article I recently wrote, more than 10 million burgers have been taken off Tesco, Aldi, Lidl, Dunnes Stores and Iceland shelves across Ireland and in the UK, after their burgers were found to contain 29% horse meat, and were tested 85% positive for pig meat.  I wonder what the muslims and jews would think of that as they are not allowed to eat pork.
Sainsbury's, Asda and the Co-op later withdrew some frozen products, but stressed that the move was "purely precautionary" and they had not been found to be selling contaminated food.
All production has been halted at an Irish factory discovered to have produced the beef burgers that contain the horse meat. Silvercrest Foods in Ireland, announced it has suspended operations indefinitely, pending further investigations into how its products were contaminated.
In a statement it said: "Because equine DNA has been found in finished products tested this week, we have decided that the responsible course of action is to suspend all production at the Silvercrest plant in County Monaghan in north west Ireland with immediate effect."
Mike Gibney, director of the Institute of Food and Health at University College Dublin, said the drive to cut prices could have contributed to the problem as beef is three to four times more expensive than horse and pig meat, which is primarily used in pet food.
He said: "As you push down the price of the producer, they push down the price of their supplier, there you get into the danger. You might find a supplier cutting costs and putting ingredients in there that shouldn't be in there."
A leading food expert, Dr Campbell has warned that the Government cannot be sure that there is no risk to public health from beefburgers contaminated with horse DNA.
Dr Campbell said: "All we know is, it is not a beefburger. What is it? We don't know. Why was it picked up in Ireland and not the UK, and how long has it been going on? Until we know what the source is of the 'horse' or 'something derived from horse, we cannot be sure there is no food safety risk."
Dr Campbell said there could also be a risk from medicines used for animals that were not sanctioned as safe for the human food chain, and questioned whether raw food materials could be coming from slaughterhouses that were not approved for processing meat for human consumption.
The Food Safety Authority of Ireland (FSAI) stood by its position that there was no risk to public health from the presence of horse and pig DNA in beefburgers, and any bacterial contamination would be killed by cooking.
It also said it had found no trace of phenylbutazone, a horse medicine not allowed in the food chain.
Horse and pig meat could have been in beef burgers for years but remained undetected because of insufficient food regulations, it was claimed.
I feel sorry for the horses, they are such sweet animals.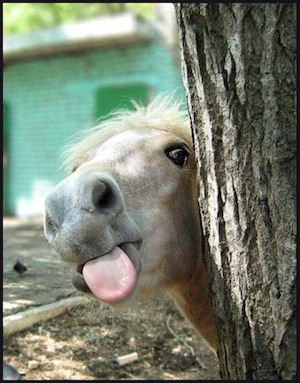 © Stuart Wilde 2013 – www.stuartwilde.com
---