Daoist Tapping Ceremony with Stuart Wilde
December 19th – 23rd, 2012 — Glendalough, Co Wicklow, IRELAND.
This event was sold out but 3 places have come up at the last minute, as one person decided to go to Amsterdam instead and a couple of people didn't complete their registration.
If you've come before, just email Tom below and if you haven't come before, we ask that you send a photo in with your application. Thank you. Stuart Wilde.
Please email: Tom Lishman at events@thehiddendoorway.com
 For further information about the Winter Solstice Tapping Ceremony in Ireland with Stuart Wilde see EVENTS.
Learn More about the Sages of the Plum Red Robes: Stuart Wilde – Plum Red – Taoist Tales of Old China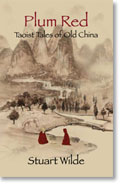 Plum Red – Taoist Tales of Old China by Stuart Wilde
"Plum-Red is Stuart Wilde's 20th book. It's a collection of stories about a group of Taoist sages called, The Sages of the Plum-Red Robes. They lived at the time Lao Tzu in 500 B.C. The tales are magical and inspirational; Stuie Wilde at his best!…"Order Plum Red – Taoist Tales of Old China by Stuart Wilde
---