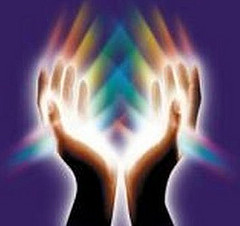 The light in my hands has been getting stronger and stronger, it only takes a very light touch, 10-15 seconds is often all it takes to cure a person of a serious disease. At first I didn't realize that the people with cancer take 2-3 months before their healings are confirmed in their tests. But now that the testimonials are coming from the cancer patients that I did a few months ago, I'm very reassured and honored to do this work. People are often so beleaguered and in pain, it's a beautiful thing that they can be offered a second chance.
The seminar gigs in Amsterdam, December 8th and 16th will be the last healings in Europe for a while. (CLICK AMS BOX on the right for information) I will have done 4000 healings by then. I'm taking a break and going to Asia.
The lectures with me and Khris Krepcik (www.thehoodedsage.com) will go from 2 pm until after dinner. I'll talk about how restriction causes disease and how to fix it, and I go through what I've learned in the mirror-worlds about protecting yourself from the ghouls, who seek to make you sick. Khris will talk of the way of the ancient sages and the secrets of the fractal codes he has seen in the inner worlds. We'll do the healings on each and every person, after the lectures deep into the night.
The diseases that have been cured by the purple hands on the TESTIMONIALS page include: Asperges, bi-polar disorder, brain tumors, cancer, leukemia, celiac gluten intolerance, heart disease,  paralysis, tooth ache, many different skin diseases, neck and back pain, sports injuries, and people that are sick because of emotional problems…a high court judge came to me in a wheelchair when I was doing healings in Wales, she was paralysed down one side of her body due to a stroke, she walked out of there after the healing! And now she takes her dog for a three mile walk every day. God must have decided the honorable judge was "not guilty" and deserving of a second chance. Tee hee. Neat eh? Everything is possible now the light has come.
In a song I wrote with Larry Hogan & David Lord, the singer sings, "so safe now the light has come". The album was made in the late 1990s, so it was a predicition of things to come.
Here is an mp3 of the song:  03 Resting In The Greenwood
From Quiet Earth Australia: the album is Voice of the Celtic Myth. Click for info: http://www.quietearth.org/stuart-wilde/music-mp3s/voice-of-the-celtic-myth-mp3/
I've worked on about 90 demonic possession cases, and I'm happy to say I've got a 100% success rate with that problem, bringing people back from infestations of the ghouls is a blessed thing. A lot of people that are partially possessed don't realize they have the disease, as the ghouls are very tricky at hiding, and then others are truly insane and they are easy to diagnose. I discovered to my great surprise that insanity doesn't scare me.
© 2012 — Stuart Wilde.
www.stuartwilde.com — All rights reserved.

Stuart Wilde Audio Lecture Series & Meditations
Find Stuart Wilde's Australian published audio lecture series and meditations on CD at the Quiet Earth web site—featuring a large selection of hard to find Stuart Wilde titles.Stuart Wilde Products Available from Quiet Earth >
---