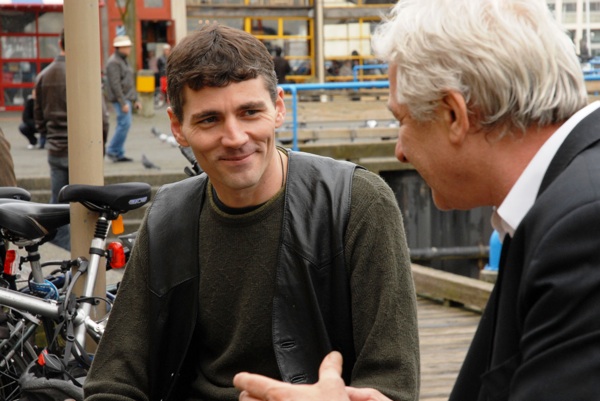 Share the love… Bring your friends and family to this inexpensive event. And if you could post this to the social sites I would be very grateful. Thank you all so much and I look forward to meeting you in Amsterdam.
Amsterdam:  DEC 8th, 2012 – with Stuart Wilde & Khris Krepcik
Amsterdam:  DEC 16th, 2012 – with Stuart Wilde
Spiritual Healing – The Second Chance Events in Amsterdam
with Stuart Wilde & Khris Krepcik
This Spiritual Healing Seminar is a must for anyone interested in spiritual growth and understanding how to liberate yourself from disease and restriction. It's an inexpensive way to enhance and deepen your healing journey.
Lift your spirit, soothe your mind, energize your body and eliminate pain.


Through lectures and healings, you will:
• Develop a deeper understanding of how the dark forces cause all our medical diseases.
• Learn more about the purple light healing process and how to eliminate your pain and diseases.
• Learn how to treat yourself and energize your body.
• Learn about emotion and medicine.
• Develop the ability to tune in and connect with your body.
• Learn about the fractal codes and how and when they are in disarray the body falls out of balance.
Stuart has testimonials of hands-on healing of these complaints:
• Depression
• Cancers
• Leukemia
• Brain Tumors
• Possession cases
• Sexual Abuse Trauma
• Back Pain
• Neck Pain
• Mysterious Head Pains
• Gout
• Family Trauma
• Psychological & Emotional Disorders
• Chronic Pain & Dysfunction
• Chronic Fatigue Syndrome
• Recurring Sports Injuries
The power of the group setting is beyond comparison to assist us with greater self-awareness and therefore enhance our ability to release our restrictions and develop perception. This seminar emphasizes methods of reading and engaging the inner negativity within the subconscious human mind – the human shadow and transforming it from darkness into light. Khris Krepcik will be holding a private gathering for the Hooded Sage Course members on the 8th Dec. Past, present, and future members are all welcome to attend.  Stuart will do a personal healing session on everyone at both events.  Click Events for more details.
Share the love… Bring your friends and family to this inexpensive event. 
Register Today!
Spiritual Healing — The Second Chance
December 8th, 2012 — Amsterdam
Spiritual Healing — The Second Chance
December 16th, 2012 — Amsterdam
---