If you are a little out of shape and it's affecting your mobility or your energy levels here's a solution.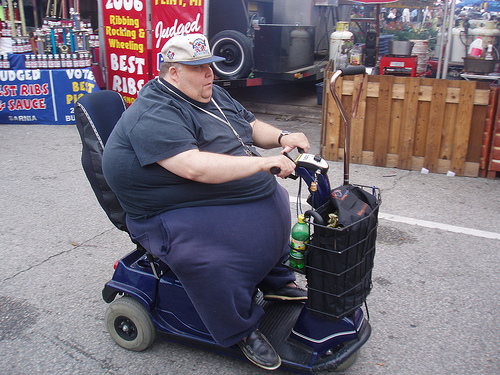 First you have to get out of any denial, as denial makes you fat.
People say you should exercise, but muscle is heavier than fat so running does not really help much. Though a tight muscular body is prettier than a flabby one.
I don't think exercise is a gentleman's thing and women should never jog, all the bouncing about can't help one bit, and what about the inner organs? Your liver would be hanging in there for grim death hoping beyond hoping, begging perhaps, that you'll stop and take a taxi home.
If you look carefully at your hips they will say, "Made in China. Guaranteed to last a lifetime". You don't need the pain, discomfort and cost of a hip replacement.
I used to gig a lot with Dr. Deepak Chopra, he told me running is useless, and it only prolongs your life for as much time as you run, so if you run for 20 minutes a day you may prolong your life by the same twenty minutes.
Jogging fires endorphins so it's a brain drug, which is why people can become obsessed by it.
The lazy man or woman's guide to simple weight loss:
- Don't eat bread or wheat, it's all Genetically Modified. It has an opiate in it called gliaden, bread is a drug.
- Eat rice very sparingly, it's loaded with arsenic.
- Booze is okay, but only two or three drinks a week.
- Chocolates, sweets, desserts, NEIN!
- Sodas, Coke, never.
- Avoid food in tins, it's usually full of sugar and salt.
- Don't drink milk. Ever. It's deadly stuff nowadays. Other diary products should be taken very sparingly. You  can have a piece of cheese on your birthday.
- Eat organic. It is more expensive, but if you eat less it should save you money.
Don't make this a special diet, just make it a way of life. Pray for the souls of jog-addicts and their damaged knees. It's good karma.
If you get really thin and lithe, find a toy boy or a nice girl and piss off to the beaches of the Caribbean and live off coconuts, but not too many as they are high in cholesterol.  Stuart Wilde
© 2012 — Stuart Wilde.
www.stuartwilde.com — All rights reserved.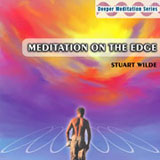 Meditation on the Edge by Stuart Wilde
"Explore Inner Dimensions with Three Extraordinary Meditations. These powerful meditations contain the Theta Metronome sound. On the first track Stuart discusses how to get real value from your meditations and gives you…"