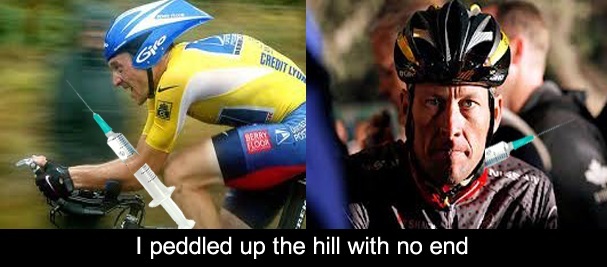 Cyclist Lance Armstrong was caught in the greatest con in sporting history, taking drugs for at least seven years to enhance his performance. His team mates testified against him. He was stripped of his seven Tour de France titles, and Nike cancelled his endorsement contract. I'd love to know how many millions he ripped them off for.
I saw a vision of Armstrong lying on a large mortuary slab, he was alive, he was resting his head on his hand, his arm was bent at the elbow.
He said, "You did this to me".
I replied, "I met a man called Armstrong once but it wasn't you Bro". And I should have added, "Why don't you shove off and peddle up the hill with no end."
Armstrong would have to be in the world's Top Ten Liars, along with Tony Balir, Colin Powell and his fake anthrax speech at the United Nations, Bush and his 911 lies, and Pinocchio.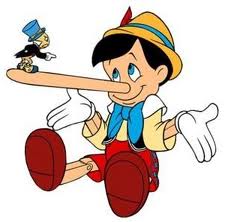 I often wondered when the fall of liars would begin, maybe Lance Armstrong marks the start, the first of many. I've said before that I was shown many years ago in visions, how the light burns away the protection of evildoers and they are left out in the open, exposed.
If people admit to their lies and they make good and feel sorry for their crimes, then there is a forgiveness and a redemption beyond it, but if they persist and they can't come clean then their spiritual fate is sealed. And often their fate here as well.
It will be a very interesting day when the Armstrong factor hits the Federal Reserve and Wall Street. The police squad cars will be lined up bumper-to-bumper all the way back to New Jersey.  Stuart Wilde (www.stuartwilde.com)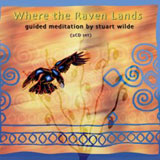 Where the Raven Lands
Stuart says about the Raven CD set: "The first CD is relaxing road music, what is sometimes called drive and drift, and the second is a guided meditation where the old raven shows you the way. The raven is the guide that gets you there. It's your story after the old story dies. It's the goddess, Mother Gaia, taking you by the hand and bringing you home to safety to the pain-free zone to greet others that got there before you.
The new dignity is a resurrection, not a literal one after death, just a new spirtual identity after the old you finally gives up and is allowed to fall away. It is a lightness of being, "beyond the beyond" in the embrace of people of like mind, who also went through the uncertainty of letting go, to the spirtual resurrection that is on the other side. They arrived as you will, to the new dignity that awaits"