Chopper, a Jack Russell, was in his owner's van in Lancashire, England, when it was stolen from the forecourt of a petrol station.
Somehow Chopper got out, and 7 1/2 hours later he heroically trotted his way back home. Miracle eh? The owners didn't get their van back but I'm sure they were very happy to see Chopper rock up. Stuart Wilde
© 2012 — Stuart Wilde.
www.stuartwilde.com — All rights reserved.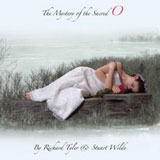 The Mystery of the Sacred O
A collaboration between renowned new age author Stuart Wilde and music composer Richard Tyler, this album consists of twelve songs that honor the earth spirit Gaia…
---