My publishers Hay House have kindly put my book on the Kindle system… they are really cheap to download, The Little Money Bible is $1.99 on Kindle, some of my books book are $4.99.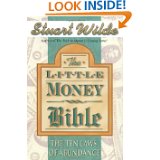 If you want to introduce my books to your friends send then then this link www.amazon.com. Thank you all for your help love stuart.
Hay House's site is at http://www.hayhouse.com/
© 2012 — Stuart Wilde.
www.stuartwilde.com — All rights reserved.