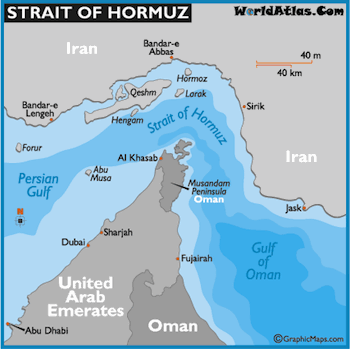 Eminent journalist say that Iran may block the Straights of Hormuz if there is a war. 18 million barrels of oil pass through there every day. It's all silliness.
Iran doesn't have a navy to speak of; they can't just bobble a "No Entry" sign at the mouth of the straight.
What is even more silly is they don't have to close the straights, all they have to do is fire their fancy rockets at the five main Saudi oil installations and those of Bahrain and other gulf states.
I can't understand why nobody has suggested the possibility of this move, surely the Iranians have thought it through. They are very bright the Iranians.
The straights can stay open forever if the oil loading is destroyed, and Iran does not have to fight a sea battle under the hot sun of the Gulf's waters, they can fire their rockets and sit on a cliff and give the Israeli and the rest of the world the middle finger salute.
Eleven years ago I saw visions of the oil running out. I saw tumbleweed on a petrol station forecourt, and cows walking past the pumps.  Eerie. Stuart Wilde
© 2012 — Stuart Wilde.
www.stuartwilde.com — All rights reserved.