I had an automatic Skype top up system, when my account fell to 2 Euros they charged my card. Last month their computer charged me four times, 25 euros plus tax on the same day.
You can't write to Skype and there is no customer service department to call, so I asked my credit card people to credit me back the three overcharges, which they did.
Skype got pissed off and closed my account. I've lost the details of hundreds of contacts. They sent five exact same emails on the same topic. They are so hopelessly bent. After they closed my account they sent me an email saying "How to make the most of your Skype credit". Funny eh? They are so cold and uncaring.
Corporate fascism is on the rise. Skype swindle people and there is nothing you can do about it.
Werner Erhart said "Life's a rip off then you die"  … tee hee. Stuart Wilde
© 2012 — Stuart Wilde.
www.stuartwilde.com — All rights reserved.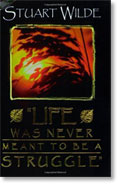 Life Was Never Meant to Be a Struggle by Stuart Wilde
"In his inimitable style, Stuart Wilde helps you identify the cause of struggle in your life and shows you how to eliminate it quickly through a concerted action plan. Your heritage is to be free. To achieve that freedom, you have to…"Order Life Was Never Meant to Be a Struggle by Stuart Wilde