I test people before a healing with a Geiger counter, to see if they have radiation poisoning. If so I do an extra process on them to help the reading come down.
Of the 800 healings I did at the weekend not one person tested above normal. Very interesting, maybe the global radiation threat is much less than previously thought. Stuart Wilde
© 2012 — Stuart Wilde.
www.stuartwilde.com — All rights reserved.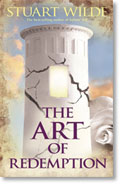 The Art of Redemption by Stuart Wilde
"For decades, modern seekers have experimented and studied with many diverse teachers and religions, but Stuart Wilde says in that toward the end of a long spiritual journey we all seek the same thing: redemption…"Order The Art of Redemption by Stuart Wilde