in contrast to all the ugliness and arrogance there is this. This is how Gaia wins in the end, beauty triumphs, she brings the corruption to its knees. We are safe in her hands. (sw)
This video is beyond extraordinary.
© 2012 — Stuart Wilde.
www.stuartwilde.com — All rights reserved.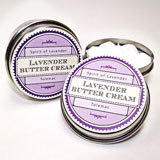 The Spirit of Lavender – Butter Cream
"One of the world's most beautiful flowers yields a small miracle for you. The Spirit of Lavender line comes from pure certified organic lavender grown in Bulgaria on a small family owned farm. Hand picked and extracted via…"