I'm at Kelowna BC this Thursday, 13th September from 2.30 pm – 4.30 pm. I've just emailed details of that to the SW A-List. The Vancouver location is still not quite sorted, the date is Thursday, September 20th – 4.00 pm to 6.00 pm. I'll email when I have the location confirmed.
I sorry I'm not posting it here in the open part of the SW site, but I'm worried about being overwhelmed, I've got tens of thousands of readers in Canada and more just over the border in Washington state. I'm worried 500-1000 people might show up, I don't want to disappoint people.  Right now I do the healings two people at a time, one with each hand, about 60 an hour. After two hours I'm fried. So that's my limit.
I waiting to be shown how to do many more people all at once. But the energy is building very strongly.  I saw 14 visions of Jesus a couple of days ago all in one day. He was 40 feet tall, I saw him standing on Burrard St. Vancouver. In one vision he was holding a small pig, it's very significant I'll write about it.
I promise I will mail the A-List in good time for Van BC Sept 20th event. All the best Stuart Wilde.
PS If you want to subscribe to the Stuart Wilde A-List, simply click the link below and fill out the form provided.
Click Here to Subscribe to the Stuart Wilde A-List
© 2012 — Stuart Wilde.
www.stuartwilde.com — All rights reserved.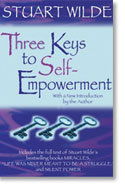 Three Keys to Self-Empowerment by Stuart Wilde
"Three of Stuart Wilde's bestselling books are included in this self-empowering anthology: In Miracles, Stuart shows that the Universal Law, which states that within human beings there lies an immense power, can be used to work miracles in our lives…"Order Three Keys to Self-Empowerment by Stuart Wilde
---