60% of Americans no longer watch the news on the main channels; ABC, CBS, NBC, CNN. Only 19% believe the official 911 story. People know they are being feed lies. The Networks will collapse eventually.
Here is a story about CNN, where it is claimed they manufacture bent news for cash and to help the status quo with its party line. Extraordinary corrupt. Stuart Wilde.
Bent News http://enenews.com/horrific-cnn-journalist-reveals
© 2012 — Stuart Wilde.
www.stuartwilde.com — All rights reserved.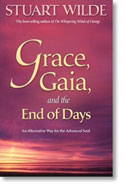 Grace, Gaia, and the End of Days by Stuart Wilde
"The divine wind of grace offers you hope and good fortune; it can cure everything. It can grant you an invisible protection, a miraculous healing; it can offer you visions through what I call 'pure information,' which is downloaded info that comes to you…"