Here below is the link to the world debt clock. Ireland wins the gold for the most debt, 1259% in relation to its gross domestic product (all the goods and services it produces annually), so if Ireland gave every cent of revenue the citizens and the country got in a year, it would take 12.59 years to pay off its debt. The European limit allowed for each country's annual debt is 3% of GDP. So how Ireland got to a total debt of 1256% of GDP is a quite a feat. No problem, tee hee.
The UK gets the silver medal at 495% and France the bronze 281%. I love watching the clock, it's all so ludicrous. My visions of tanks in the streets of Ireland and food lines will come to pass I reckon. SW
http://usdebtclock.org/world-debt-clock.html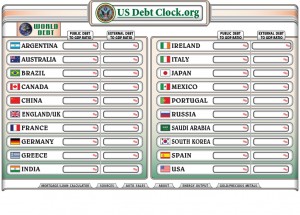 © 2012 — Stuart Wilde.
www.stuartwilde.com — All rights reserved.
---