We see the world brain as the collective, Jungian mind of humanity, people are scared and brainwashed. It's not their fault.The media feed them lies and the inner world ghouls corrupt good information into false information. I saw a series of carefully presented teachings in visions showing me how the ghouls can flip a 6 to a 9, "go" into "don't go"– "yes" into "no" and so forth. The Matrix is a cage-like net, very few have ever been beyond it–to see the real world, the dimensions Morpheus in the Matrix calls the 'fields upon fields'.
So society is fear driven, tormented and under great strain. But all of reality gives off a resonance, a force field that we all have the ability to feel, we can tell what feels right and what is wrong . I say in my books if you don't know don't go, if the feeling is wrong hold back and wait.
There is no real logic to logic because you don't know if the information you have is accurate or not. Much is supposition, and supposition is mostly the guess work of the mind. It's how the mind tries to impress you by being clever.
To get out of the Matrix you have to go from your intellect which is trapped by what it thinks it knows, that was in effect delivered to it by the Matrix as a con job, and you have to drop into your subtle feelings and then you can go under the Matrix net and escape.
You also have to disconnect from common emotions and be very calm and get past the bad habit of emotional upsets, avoid them at all costs. And you have to unclick from things that bind you: Dysfunctions, pornography, addictions, repressed anger, rotten relationships, and too much food.
And you have to go beyond fear. The ghouls fire fear at you, the more balanced and pure and in control you are, the more chance you have of transcending it. Do what you have to do…downsize, get another job, work harder, sell stuff, go on a raw food diet so you have more light and more energy, fix problems and become aggressive about becoming free. Thank you. Stuart Wilde
© 2012 — Stuart Wilde.
www.stuartwilde.com — All rights reserved.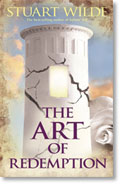 The Art of Redemption by Stuart Wilde
"For decades, modern seekers have experimented and studied with many diverse teachers and religions, but Stuart Wilde says in that toward the end of a long spiritual journey we all seek the same thing: redemption…"Order The Art of Redemption by Stuart Wilde