I saw a man twirling about on what looked like over-sized earrings. He was up there about a minute, he seemed to do very well, they gave him a gold disk on a ribbon. The disk reminded me of the earrings he was twirling around on.
I radioed Major Tom at Ground Control, as I could make neither head nor tail of this ring business, he said it was connected to the Lord of the Rings and a man called Frodo.
The man who eventually won was from Sao Paulo. Last time I was there people were shooting at each other in the street right next to me. A man with a newspaper stand kindly allowed me to shelter from the bullets in his little box. I could have bought a paper from him but I don't read Portuguese.
If the bullet hits the gold disk on ya chest you don't die. So twirling on earrings is a life extension process of some kind in Sao Paulo.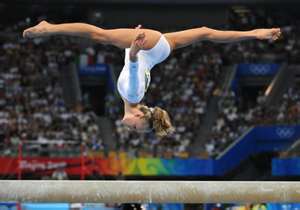 I saw a young lady bouncing about on a beam, it looked very dangerous to me. Major Tom said it was connected to Scotty and Star Trek.
These humans are very strange. The man with the pointy ears in Star Trek looks normal to me compared to this lot. I'm circling around cruising, saving fuel, I'm hoping to blast off and head for home. SW
P.S. The Somalian tiddlywinks team got disqualified for heating the little plastic counters with cigarette lighters to make them fly faster.
I'll wave when I pass Pluto. Stuart Wilde
P.P.S. Who's Frodo? Is he also from Brazil?
© 2012 — Stuart Wilde.
www.stuartwilde.com — All rights reserved.