There are lots of frightening stories of the US government's surveillance of its citizens, but to keep it in perspective here's an item of interest.
A Russian attack submarine sailed into the waters off Florida and hid there for three weeks undetected. It was only discovered by the US surveillance people when it sailed out of the Gulf of Mexico into the Atlantic.
If they can't find a massive submarine under their nose, that could nuke Miami, they probably can't find ya email to ya granny where you say OIbama is a Zionist poof and he should have his testicolies rubbed with Super Glue.
http://freebeacon.com/silent-running/
© 2012 — Stuart Wilde.
www.stuartwilde.com — All rights reserved.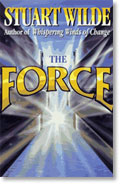 The Force by Stuart Wilde
"The Force is part of each and every thing in the physical plane. This includes our planet, the stars and galaxies, and the physical universe, as it stretches out in space, beyond our perceptions. By its very nature, the Force is immortal and never-ending…"