We grew 7000 garlic plants, I've got a bunch of dear friends that slave on the shucking and peeling so the plants can be stored. I'm doing the garlic pots until the end of August, then I'll close it. If Avian flu occurs, we'll  re-post the garlic pot offer at that time. We will have some pots at the gigs, but we are not mailing out pots of garlic after August 30th. Stuart Wilde
© 2012 — Stuart Wilde.
www.stuartwilde.com — All rights reserved.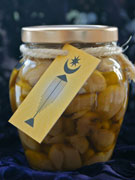 The Golden Garlic from Stuart Wilde
"We use the garlic and the protective codes that are in it, as an antibiotic. If avian flu comes to the world, the old antibiotics won't work, so I was shown how to put the celestial codes inside the jars of garlic…"