The Illuminati were founded in 1776 in Bavaria by Adam Weishaupt, Goethe was a member. They infiltrated the Freemasons and the two orders have been linked in popular conspiracy theories.
"American televangelist Pat Robertson with his 1991 best-selling book The New World Order became the most prominent Christian popularizer of conspiracy theories about recent American history, as a theater in which Wall Street, the Federal Reserve System, Council on Foreign Relations, Bilderberg Group, and Trilateral Commission control the flow of events from behind the scenes, nudging us constantly and covertly in the direction of world government for the Antichrist." Wikipedia.
There are forces of control like the Jews that own the Federal Reserve, and the Columbian war lords that control drugs to America, and the Communist Party that owns and controls China, and the Marseille mafia that runs the heroin into Europe and the Oligarchs that control Russia. It's a world subjected to control by different types of gangsters, some are in suits. But I don't think these forces are the Antichrist.
So is there a secret society bent on dominating the entire world?
Certainly, the Zionist stated aim is to enslave the world, so I can see why conspiracy theorists say they are the Illuminati, and certainly George Bush and his father seemed very keen to establish a New World Order, with a one-world money, a one-world government and one political-military system. Bush built internment camps in America for people that didn't like his ideas, that scared people.
The lust to dominate and control is evidence of demonic possession. If you have not seen the fractal codes people emit, you may doubt the reality of demonic possession. This is especially so because it is often very hard to tell if a person is demonically possessed or not, those that are possessed by evil spirits are experts at looking and sounding normal. Their codes are brown, or black, or black and red, if there is sexual control involved. Demonic possession is not a rare condition, it affects millions. I've worked on a lot of demonic possession cases.
It is the modus of the inner world dark forces to seek to possess and control humanity, they are immensely powerful, way more than a few hokey nutters on the world stage, Gordon Brown, Henry Kissinger or the pro-Israel lobby.
The dark forces can talk to a man's mind without him knowing it, offering evil ideas close to his own sentiments so he thinks the thoughts are his. They play on his sex drive, greed or his lust for power.
To that end the Demonic World Order exists as a reality in the inner world dimensions, and in the silent thoughts of men and women. We know for a fact that the demonic world (dimensions), I've said before, is just 18 inches from you.
The celestial is also 18 inches away. There is an on-going Armageddon-style war in those dimensions to break the power of the ghouls and release humanity; it's been raging 10 years as far as I know.
So there is an Illuminati force, it's in the inner worlds, and those that attend secret societies and perform rites at Bohemian Grove say, are just little boys playing "dress up", they are a joke compared to the real thing, which is a massive evil empire within.
And that body of evil is linked to the Anti-Christ concept, but only in the sense that evil doesn't want people to be free, nor does it wish for the power of love and the healing of humanity, evil doesn't want absolution and redemption from one's torment. It wants more torment. Those sentiments are anti-Christ because they are anti the God Force's celestial light.
Conspiracy theorists talk of the Illuminati bankers in New York, Rothschlid, Warburg, Goldman Sachs etc, and so you can see how the term Illuminati came to mean the takeover by the Jews. But tens of thousands of Jews protest in the streets against their war-like leaders, so it's only the elite, not ordinary people in Israel.
It is hard to understand why a mulitmillionaire with great power and influence would want to control people and hurt them, wouldn't he or she want to live out their lush life in elegant calm?  Why would controlling and hurting people give them pleasure unless they were manically possessed by dark influences? Control and lust for power is a mental disease created by the ego. It's an illness.
I imagine the Illuminati and the New World Order will make it in the end. As they will create wars and one crisis after another that will enslave people to them and their corrupt ideals, through fear.
Then the Second World, a celestial power is superimposed over them, and they are crushed and they pass from this earth as unimportant skeletons—dust.
And then the earth is left free, without the tormentors, supremacists, or the Illuminati.
A Golden Age will reign. This has been shown in visions many times. It's pre-programmed. Stuart Wilde
© 2012 — Stuart Wilde.
www.stuartwilde.com — All rights reserved.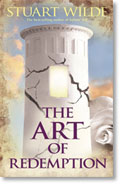 The Art of Redemption by Stuart Wilde
"For decades, modern seekers have experimented and studied with many diverse teachers and religions, but Stuart Wilde says in that toward the end of a long spiritual journey we all seek the same thing: redemption…"