There are 140 Tolemac flags 'round the world, and we now have a few of them back in stock. They are Euro 99 (see below). It's a grid of light we are making, at night I send energy through my hands down the grid of the flags that are now linked all over the world.
One customer wrote:
"Just had to tell you … last night was finally able to put up our flag as I have a little place in the NT. Straight after started my meditation and the biggest thunder clap and lightening display went off. All of the town was in blackout for half an hour. The quiet after the thunder clap was beautiful."  A.P., NT, Australia
Here is what I posted in the past about my flag visions.
I saw an altar in a celestial heaven surrounded by a vast, radiant light of purple, gold, blue and white.
On the altar was a golden chalice and over the front of the altar was draped the Tolemac flag, which is a Templar flag on white silk with the Tolemac sign, small in the right corner.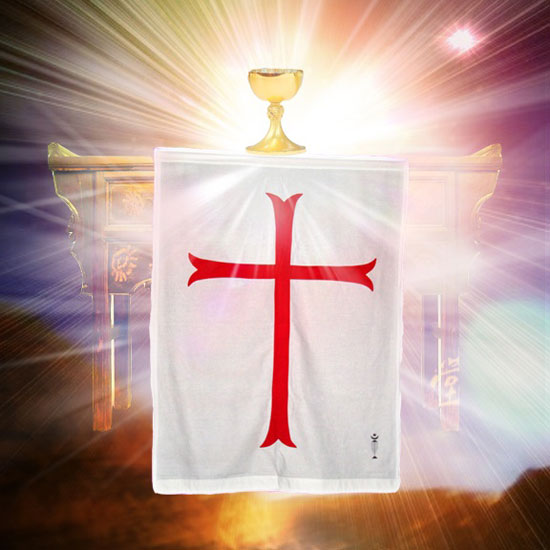 After I saw the visions of the flag I decided to have them made in white silk, so we can create a world-wide grid of these flags hanging in people's homes to build a celestial protection for us all.
The flag are hand made and stitched one-by-one, so they are not as cheap as I would like, they are €99, which includes airmail postage anywhere in the world. Size: 5 ¾ feet long, 3 foot one inch wide. They are very imposing.
There is a hem at the top and bottom for a wooden pole. They ship within two to three weeks. Here is the Pay Pal link if you are interested in getting one.
Click Here to Order the Tolemac Flag
"Several people have ordered the flag through PayPal with an unconfirmed delivery address. If your PayPal account has an unconfirmed address please would you write to tolemac.int@gmail.com and confirm the address you want to flag delivered to." (sw)
One customer wrote:
© Copyright 2011 – Stuart Wilde – All Rights Reserved.
---