December 11th, 2011
I said a couple of weeks ago silver could tumble down to $25.00. It has since come down from $35.50 to $31.11, as I write. This is because the banks are dumping gold, or they are using their gold stash as collateral to borrow money because they are so cash strapped.
Gold usually trades at 50 times more than silver, the gold price this morning is $1666, so silver should be $33.32. It's two bucks less than 50 times gold, so it is over sold, BUT gold may continue down for a while as the bank crisis is not getting any better.
It will only go up once there is real panic, so maybe January-April time. Okay Bye for now, Stuart Wilde
(www.stuartwilde.com)
© Copyright 2011 – Stuart Wilde – All Rights Reserved.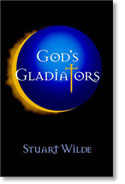 God's Gladiators by Stuart Wilde
"God's Gladiators by Stuart Wilde is his most personally revealing book to date. He lays his soul bare as he goes in pursuit of the devil, and finds him a decent chap if a little misunderstood. The dark side, after all, stands side by side with the light, waiting…"
---